About
This fall I will be traveling to Kenya to volunteer with Volunteer Kenya/ICODEI, a Kenyan organization devoted to fighting HIV/AIDS, providing primary school education, encouraging microenterprise development for women, and providing healthcare for the people of Western Kenya without regard to religion, politics, ethnicity, or nationality.  I will be living on a sugar cane plantation with a reverend and his extended family in the rural village of Kabula for two months. I will take up residence in a grass-thatched mud hut where there is no running water and electricity is extremely limited.
I will spend one month volunteering with the microenterprise development program and another month in the HIV/AIDS education program.  Through the microenterprise development program, ICODEI assists rural "Self-Help" groups, made up predominately of women, start small-scale income-generating activities, as Kenyan women in rural areas often lack access to capital and the ability to generate income.  Since 2001, ICODEI has provided start-up technology, capital, and other resources to over 30 women's groups for the implementation of projects such as sewing and tailoring shops, bee-keeping projects, horticulture projects, and fisheries.
Since 1998, Volunteer Kenya has reached over 200,000 Kenyans with their HIV/AIDS awareness campaign. At schools, community centers, bars, nightclubs, churches, and women's groups, the Volunteer Kenya team presents HIV/AIDS presentations. Discussions at these presentations focus on the transmission and prevention of HIV/AIDS and other STIs. Rural villagers are supplied facts about HIV/AIDS that assist in dispelling the multitude of rumors and myths concerning the disease that are rampant in Western Kenya and elsewhere.
I am unbelievably excited about the opportunities and experiences that lie ahead. Realizing this effort will require the synergy of love and support of my friends and family — people like you.  It is my sincere hope that you will consider joining me in this effort. As always, your support and encouragement are appreciated.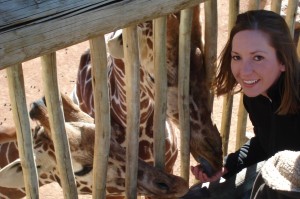 Kate Whitney is a Commercial Credit Analyst/Loan Administrator living in Denver. She graduated from Western State College of Colorado in 2007 with a Bachelor's in Sociology and Business Administration. When not working, she can be found rock climbing or spending time with friends.